"Deliciously Plant-Based" Recipe Book
Over 160 Healthy, Low-Fat, Oil-Free Plant-Based Recipes!
(Includes Both Cooked and Raw Vegan Recipes)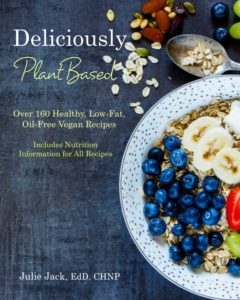 Regain your health and vitality, while losing weight effortlessly with this recipe book! Includes over 160 delicious, low-fat, oil-free, cooked and raw vegan plant-based recipes for improved health and weight loss.  This recipe book is great for those who would like to include more plant-based meals into their diet to lose weight and to improve their overall health.  All recipes include nutrition information so that you don't have to guess on the amount of calories, fat calories, protein, etc. If you want to lose weight, lower your cholesterol, help prevent cancer, type 2 diabetes, and heart disease, then choosing the right foods is important to achieving your health goals.